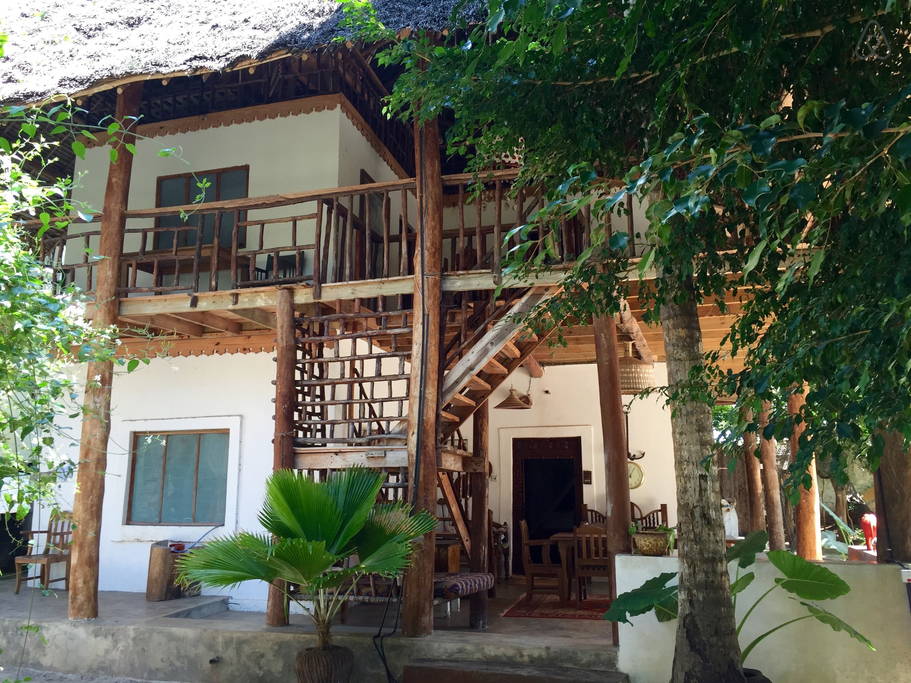 Nyumba Safi stands on the site where we first built a small two room hut to sleep in as we watched Nyumba Kubwa grow. Before our eldest daughter's wedding, which took place on the beach in front of Utupoa, we renovated the place to make space for the groom's family. We called it Nyumba Safi, which sort of translates to 'The Fancy House', because, well, in-laws. The name stuck, and we are now delighted to share the house with you.
There is a self-contained kitchen and dining area, a place to chill out and drink tea on the first floor, and the Zanzibar equivalent of an attic or den upstairs, beneath a makuti thatched roof, where there is a TV, computer, a sound system, and Joyce's favourite round, red couch.
Fast fiber wifi can be received throughout the house, including the bedrooms.
Ngalawa are traditional trimaran dugouts used by the Matemwe fishermen whose white lateen sails have graced our blue lagoon for centuries. We designed this ensuite bedroom as a tribute, indeed from the timbers of one we once sailed.
$95 / night
for 2 Guests (including breakfast)
Looking for a private space to rest or revive yourself? Karibu to our newly renovated private suite with calming views and creative vibes. Enjoy an ensuite bathroom, living room with kitchenette, and a spacious terrace to watch Matemwe beach life.
$160 / night
for 2 Guests (including breakfast)
This simple, en suite double room on the first floor of Nyumba Safi honours Zanzibar's grandmother Bi Kidude, the famous taarab singer who drank and smoked and traveled the world and never married and lived to 100 and barely ever wore shoes as she traipsed through the kijiji – or village – greeting people.
$95 / night
for 2 Guests (including breakfast)
The ensuite Sultani bedroom has 2 separate Zanzibari beds that have been put together and echoes of an era of past Swahili grandeur. Although it is upstairs in Nyumba Safi, we always invite our guests to feel at home in both our houses.
$95 / night
for 2 Guests (including breakfast)
"This being human is a guest house.
Every morning a new arrival.
A joy, a depression, a meanness,
some momentary awareness comes
as an unexpected visitor.
Welcome and entertain all!
Even if they're a crowd of sorrows,
who violently sweep your house
empty of its furniture,
still, treat each guest honorably.
He may be clearing you out
for some new delight.
The dark thought, the shame, the malice,
meet them at the door laughing,
and invite them in.
Be grateful for whomever comes,
because each has been sent
as a guide from beyond."
~Rumi
"Utupoa is not only an extraordinary place of beauty and hospitality, but also a bit of an utopian society. That's because of Joyce's amazing ability to make everybody feel welcome and part of the Utupoa family. In the moment we arrived we felt the beautiful and peculiar vibe of the place - it was like arriving at a group of friends who would immediately accept you. Besides Joyce there is the great staff, everybody warm and welcoming. Five stars plus."
"Just an amazing and adorable place. It's a place full of love and kindness ... just like Home away from Home 😉 Tim and Joyce created a little paradise and also the Food is so delicious. Thank you for everything !! We will miss you !!"
"A stunning place with a very beautiful African-style interior and his own history. Perhaps the most beautiful house that we saw on our trip around the island. Lots of thanks to Joyce for such warmth and comfort. In this house you will really feel at home."
To enquire or book directly without fees, please contact us.
Please note, we accept payment in cash, card, or via online transaction. There is an ATM in Kiwengwa (15 minutes drive away).