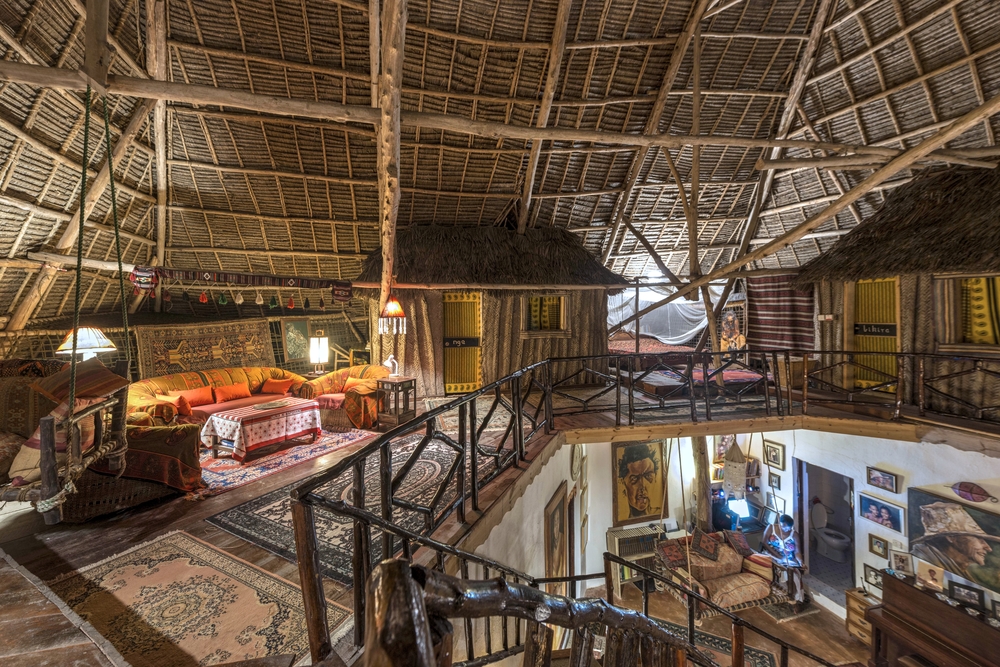 Nyumba Kubwa means 'Big House' in Swahili. The style is rustic and laidback, ecologically adapted to the East African monsoon climate. We've designed the house around the two great trade winds which blow every year, one from the north for the Kaskazi bedroom and one from the south for the Kusi bedroom.
Leave your wardrobe behind. You'll only need the odd khanga or kikoi.
Here's a place where the sights and sounds of Matemwe Beach compel you to bwaga moyo – to lay down your heart and rest. So, why not mix a cocktail, enjoy a cold beer at our Twende Juu bar, then go upstairs and listen in peace to the rustling all around of palms, or to the low roar of surf crashing onto the distant reef.
Unbiased, it's paradise, but we've come to realise that even in paradise, a link or two with the wider world tends not to go amiss. With that in mind, we offer you Zanlink's brand new fast fiber internet connection, so you can get those tanned selfies onto Instagram.
Whatever, as our guests in the Kusi or Kaskazi bedrooms, you are truly immersed in the heart of Utupoa, so make yourself at home, explore the library…or simply find a hammock, or a swing, or a daybed and while away the afternoon.
The two bedrooms mirror each other on opposite sides of the house. Both are ensuite, with a large four-poster bed, a separate daybed, all with mosquito nets which can be turned down for you at sunset. Each room has its own veranda, and private access to the front garden which leads onto the beach.
A large ensuite bedroom in our Nyumba Kubwa, with its own veranda just metres away from the dazzling Matemwe beach.
$130 / night
for 2 Guests (including breakfast)
Kaskazi, the Swahili name for the Northeasterly trade wind which blows from December to March, is a lovely, airy, ensuite bedroom in our main house.
$130 / night
for 2 Guests (including breakfast)
"This being human is a guest house.
Every morning a new arrival.
A joy, a depression, a meanness,
some momentary awareness comes
as an unexpected visitor.
Welcome and entertain all!
Even if they're a crowd of sorrows,
who violently sweep your house
empty of its furniture,
still, treat each guest honorably.
He may be clearing you out
for some new delight.
The dark thought, the shame, the malice,
meet them at the door laughing,
and invite them in.
Be grateful for whomever comes,
because each has been sent
as a guide from beyond."
~Rumi
"Utupoa is not only an extraordinary place of beauty and hospitality, but also a bit of an utopian society. That's because of Joyce's amazing ability to make everybody feel welcome and part of the Utupoa family. In the moment we arrived we felt the beautiful and peculiar vibe of the place - it was like arriving at a group of friends who would immediately accept you. Besides Joyce there is the great staff, everybody warm and welcoming. Five stars plus."
"Just an amazing and adorable place. It's a place full of love and kindness ... just like Home away from Home 😉 Tim and Joyce created a little paradise and also the Food is so delicious. Thank you for everything !! We will miss you !!"
"A stunning place with a very beautiful African-style interior and his own history. Perhaps the most beautiful house that we saw on our trip around the island. Lots of thanks to Joyce for such warmth and comfort. In this house you will really feel at home."
To enquire or book directly without fees, please email us below.
Please note, we accept payment in cash, card, or via online transaction. There is an ATM in Kiwengwa (15 minutes drive away).